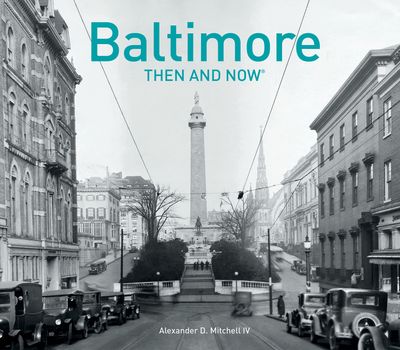 Then and Now - Baltimore Then and Now®
(Then and Now)
By Alexander D. Mitchell IV and Paul Kelsey Williams
Archival photographs of Baltimore from the 19th and 20th centuries have been  matched with specially commissioned colour photos to reveal the past and present of this fascinating and historic city.
Baltimore Then and Now chronicles changes across the city since the dawn of the camera age. It pairs photographs over a century old with specially commissioned views of the same scenes as they exist today, showing how Baltimore has evolved and changed and also how it has preserved its heritage.
Baltimore's many communities boast sprawling city parks, wide tree-lined boulevards, and authentic sailing fishing vessels and pleasure craft, with neighborhoods such as Little Italy and Greektown showing a rich heritage of diverse cultures. The city's place in American history was firmly established when the poem about the bombardment of Fort McHenry, "The Star-Spangled Banner," became the American national anthem; the fort itself is still one of the city's most famous landmarks.
Located at the mouth of the Patapsco River, Baltimore owes much of its history to geography, which has assured its role as a major port and transportation center. The Industrial Revolution and the two world wars saw Baltimore play a major role in the construction of thousands of ships and the building of nearby weapons, aircraft, and munitions plants. But Baltimore has undergone tremendous change since Susquehannock Indians first inhabited the area centuries ago. From the fire of 1904—the last major city fire in America—which destroyed most of Baltimore's downtown historic district, to the tourist development of the Inner Harbor in the 1970s, and sports stadiums in the 1990s, the city has undergone years of renovation and rebuilding. 
Sites include: Federal Hill, U.S.S. Constellation, Fells Point, Shot Tower, Peale Museum, City Hall, Camden Station, John Hopkins University and Hospital, Bromo-Seltzer Tower, B&O Building, Pratt House, Washington Monument, Walters Art Gallery, Union Station, Maryland Art Institute.