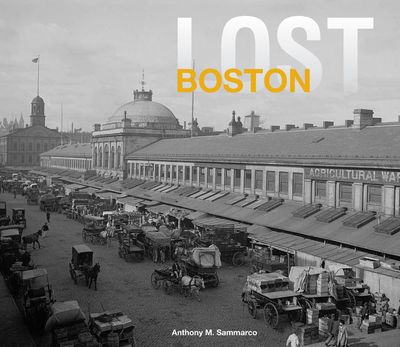 Lost - Lost Boston
(Lost)
By Anthony Sammarco
Lost Boston traces the cherished places in a city that time, progress and fashion have swept aside before concerned citizens or the National Register of Historic Places could save them from the wrecker's ball or the graveyard of history.
Organised chronologically starting with the earliest losses and ending with the latest, the book features much-loved insitutions that failed to stand the test of time, along with old-fashioned hotels and sports facilities that were beyond updating or refurbishment.
Losses include: Franklin Place, Boston City Hall, Cathedral of the Holy Cross, Hancock House, Gleason's Publishing Hall, Fort Hill, Franklin Street, Boston Coliseum, Boylston Market, Merchants Exchange, Haymarket Square, Boston Public Library, Horticultural Hall, Boston Museum Museum of Fine Arts, Revere House (Hotel), Huntington Avenue Grounds, Charlestown City Hall, Molasses Tank, Cyclorama, Readville Trotting Park and Race Track, East Boston Airport, Boston Latin School, East Boston Ferries, Braves Field, Massachusetts State Prison, Boston Opera House, Boston Aquarium, The Howard Athenaeum and Dudley Street Station.