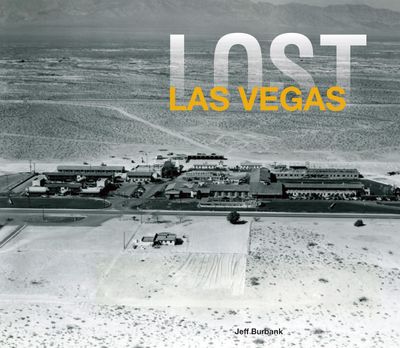 Lost - Lost Las Vegas
(Lost)
By Jeff Burbank
Lost Las Vegas traces the dizzying pace of change in America's fastest-evolving city.
Lost Las Vegas traces the cherished places in the city that time and the brutal forces of economics have swept aside before the National Register of Historic Places could save them from the wrecker's ball or, in the case of Las Vegas, before the Neon Boneyard can claim them.
Organised chronologically starting with the earliest losses and ending with the latest, the book details the many hotels and casinos that failed to move with the times and got swept away for something bigger, better and brighter.
Legendary names in the field of entertainment have come and gone – the Sands hotel featured many of the rapack in residence, but the casino is long gone. Howard Hughes and the mob featured heavily in Vegas history but neither could sustain their success for very long. Today, it is the showgirl who is under threat. That Vegas institution is under threat from the big setpiece shows such as Cirque du Soleil.
Losses include: Arizona Club, El Portal Theater, Clark County Courthouse, Hotel Nevada, First State Bank, Las Vegas Rail depot, El Dorado Club, Old Ice House, Atomic Tourism, Helldorado on Fremont Street, The Green Shack, El Rancho Vegas, Hotel Last Frontier, Desert Inn, Sands, Sahara, The Thunderbird, The Mint, Royal Nevada, Stardust, Showboat, Hotel Biltmore, Dunes, Hacienda, Moulin Rouge, Tally Ho, Paddlewheel/Debby Reynold's. Silver Slipper, Tam O'Shanter, Bonanza, Boardwalk Casino, Old Las Vegas Convention Center, Landmark Hotel, Aladdin, La Concha, Westward Ho!, Castaways