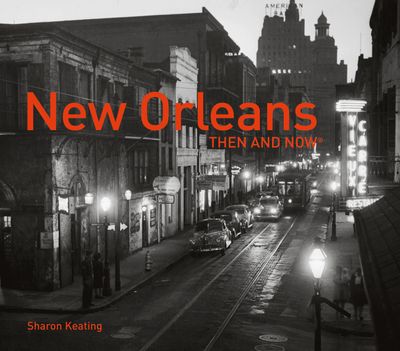 Then and Now - New Orleans Then and Now®
(Then and Now)
By Sharon Keating
Pairing archive photos of the 'Big Easy' with their modern counterparts, New Orleans Then and Now shows how the city has preserved its rich architectural heritage to become a must-see tourist destination.
While New York has Dutch and English forebears, New Orleans has the French and Spanish to thank for creating a unique blend of eighteenth and nineteenth century architecture that has made it one of the most photographed cities in the world. Then there is the madness of Mardi Gras and the lure of its international jazz festival that has helped give it the nicknames; "the City that Care Forgot" and "the Big Easy."
Before the rise of the railroads it was the most prosperous city in the South.The city fell early in the Civil War, in 1862, but the dwindling importance of cotton and the Mississippi that led to the city's real demise in the latter half of the nineteenth century.
Today, tourism is an important industry and despite the inundation of floodwater from Hurricane Katrina in 2005, visitors have flocked back to the city. New Orleans Then and Now features the must-see sites of the French Quarter; Bourbon Street, once frequented by a streetcar named Desire, the Old Absinthe House, the Napoleon House, the haunted LaLaurie Mansion and the beautiful ironwork of the LaBranche buildings. It also shows the St.Louis Cathedral and the Higgins boatyard which played a crucial role in winning World War II.