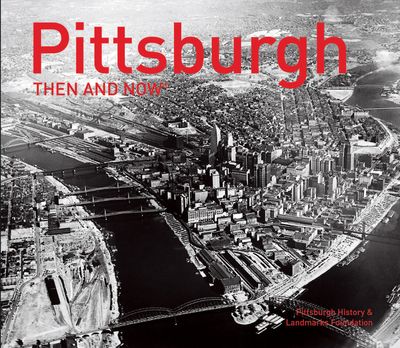 Then and Now - Pittsburgh Then and Now®
(Then and Now)
By Pittsburgh History & Landmarks Foundation
Pairing vinatge photos with the same view today Pittsburgh Then and Now shows the dramatic transformation of Ameroca's steel town into a modern metropolis.
Pittsburgh rose to industrial prominence thanks to an easy supply of coal and limestone, and by the Civil War the iron industry was thriving. Andrew Carnegie made his fortune here and Pittsburgh became the steel town, endowing Allegheny County with some architectural masterpieces. 
In the late twentieth century, the steel industry went into steep decline and the city has reclaimed these sites in an astonishing transformation. Pittsburgh Then and Now shows how much the city has come on its journey to a new economy.
Sites include:Views from Mount Washington, Smithfield Street Bridge, Monongahela Wharf, Bouquet's Redoubt, Union Station, Sixth Street Bridge, Forbes Field, PNC Park, Duquesne Incline, Eliza Furnaces, Polish Hill, Fifth Avenue, Carnegie Institute, Cathedral of Learning, Phipps Conservatory, Pitt Stadium, Luna Park and Highland Park.